Main side Walls
Main side walls are made of corrugated sandwich panels with pre-coted electrostatic painted galvanized sheets, blocking heat transfer, humidity and dust.
The insulating material used within the side walls consists of a 75-80mm layer of polyurethane, and the walls are covered with a 3mm MDF coating on the inner side.
The insulating material injection is performed using anti- flame polyurethane with 45Kg/m³ density.
A very low thermal transfer coefficient has led to a wide usage of polyurethane as an efficient thermal isolator.
Thanks to its building elements, polyurethane remains highly resistant against defects caused by sunlight, heat, electricity, fire, acids and other solvents.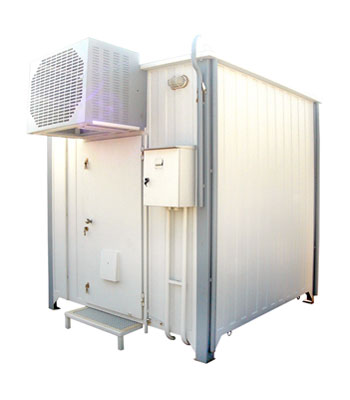 In order to access the equipment room, a door with a similar structure as the side walls is located on the front wall, equipped with high quality security locks.
All the edges of the door opening have been properly sealed against rain, dust and thermal leakage with spring rubber-tapes.