Balancing System
The balancing system consists of eight arms. Six arms are equipped with hydraulic jacks and the remaining two use manual jacks.
Chassis & Suspension System
The chassis and suspension system of the telecom equipped trailer have been designed and manufactured in accordance with EURO4 standards.
Chassis: Chassis and other metal parts are manufactured from special steel with CO2 welding
Axes: Two 10-Tons Disc-Type Axes
Pins: 2-Inch Pin & Flange System
Stop Stand: 24-Tons Two-Speed Stop Stands
Painting: The Chassis is completely sandblasted first, then coated with a layer of Epoxy substrate and finally covered with a Polyurethane color coat.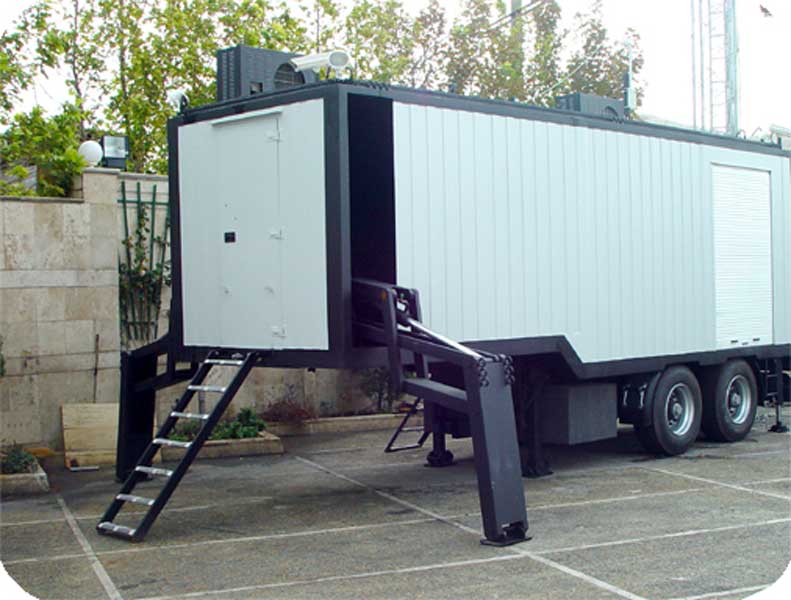 Features & Accessories
Intelligent System for Electric Power Distribution & Cut-Off
Intelligent Anti Electric-Shock System
Intelligent Lighting Projectors
Intelligent Winch-Cable Tension Control System
Automatic Fuel Distribution System with a 1000-Liter Anti-Freezing Diesel Tank
Intelligent Closed-Circuit Camera Surveillance System
Spare Wheel Anti-Theft System
Air Cooling Systems Equipment & Maintenance Crew Rooms
Emergency Toolbox & First Aid Kit
Fire Extinguisher